Zergotech Freedom Keyboard
Zergo
The archaic design of standard keyboard layouts create many unhealthy stressed positions for hands and wrists. Prolonged use of the keyboard in these stressed positions frequently result in harmful injury, slowing productivity and - in the worst case - altering careers.The Zergotech Freedom solves these stressed positions to produce the...
Add to wishlist
The archaic design of standard keyboard layouts create many unhealthy stressed positions for hands and wrists. Prolonged use of the keyboard in these stressed positions frequently result in harmful injury, slowing productivity and - in the worst case - altering careers.The Zergotech Freedom solves these stressed positions to produce the most innovative, intelligent and comfortable keyboard available.
Internationally Acclaimed Product Design
We are proud winners of the German based Red Dot International Product Design Awards in our inaugural year. From thousands of entries we excelled in areas of design, innovation, and productivity. Credit to our team for their dedication and creativity in producing such a great result. The Freedom ergonomic keyboard will be displayed on the Red Dot website from June 2020.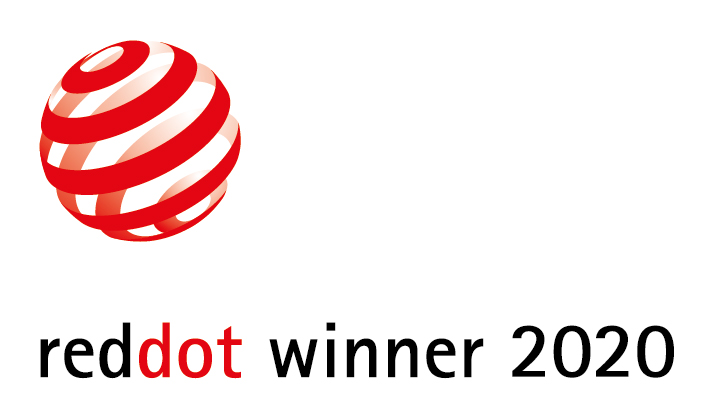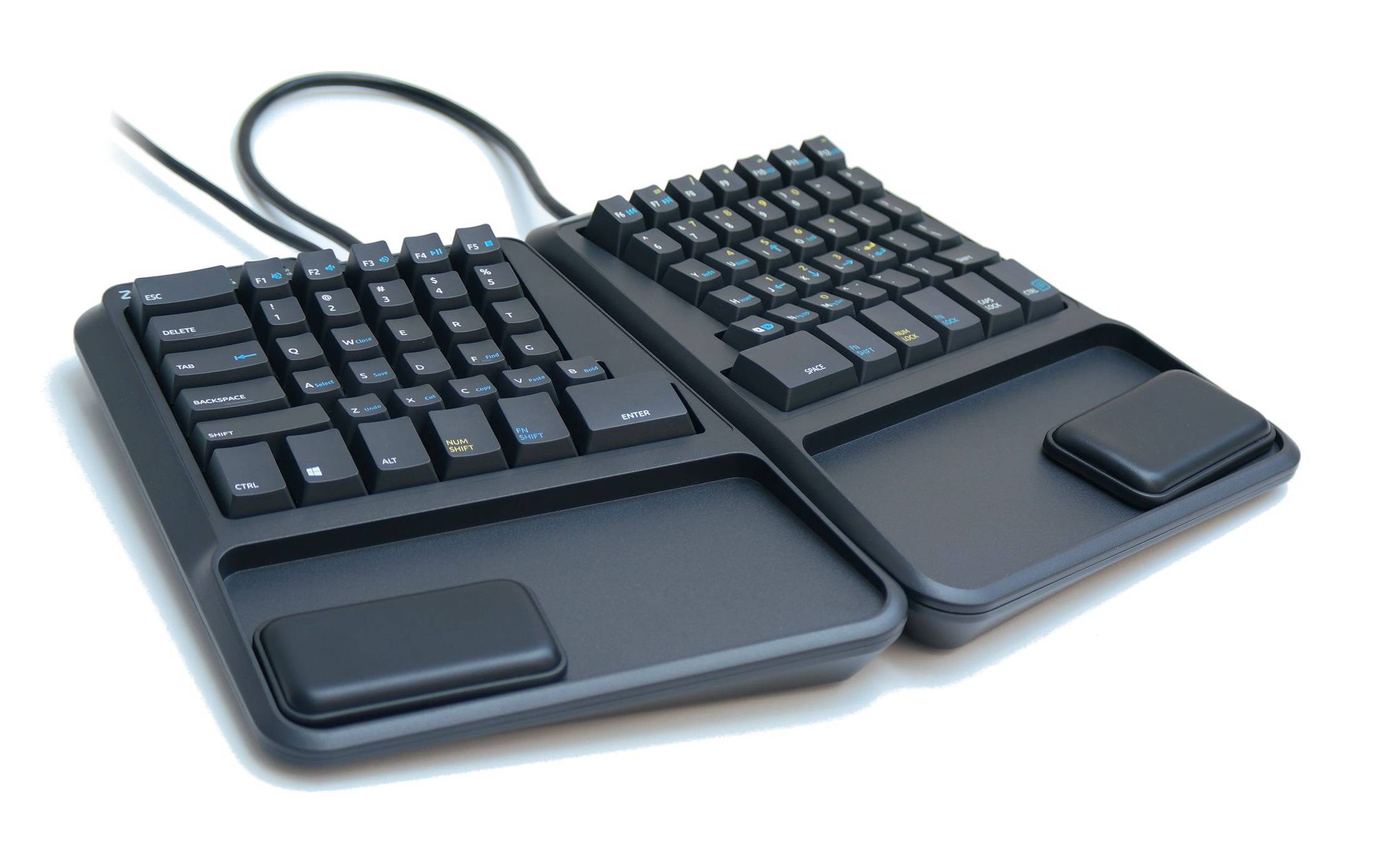 Simple yet effective, our Sliding Palm Rests form the core of our design. The freedom to hover your hands around the keyboard eliminates any awkward wrist movements that are the main source of RSI and typing related pain.The size of the slider bay provides enough room for the Sliding Palm Rests to roam around the keyboard while keeping your wrists and forearms aligned at all times. Your fingers will always have enough room to strike any key without over stretching on higher rows or uncomfortably compressing on lower rows. 
A joy to use, these sliders will make you want to type!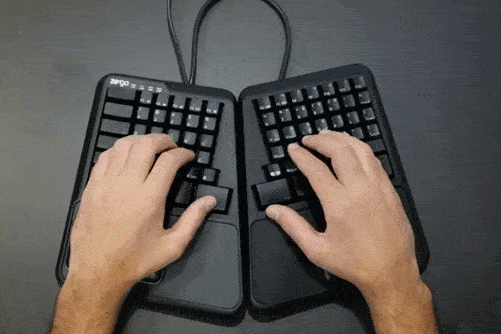 The Freedom in action. Palms and wrists remain aligned with your forearms as your fingers roam free.


Any and all directions. No key too far. Cushioned with a premium gel pad and protected with synthetic leather, you have not experienced a more comfortable palm rest.

*Slim Profile Sliders are provided with the keyboard. Video shows Tall Profile Sliders which are an optional extra purchase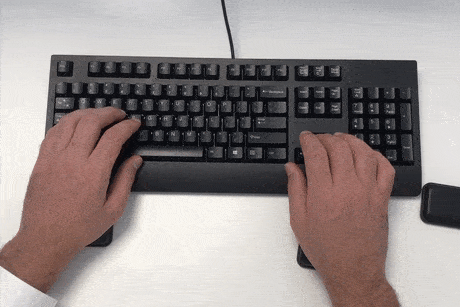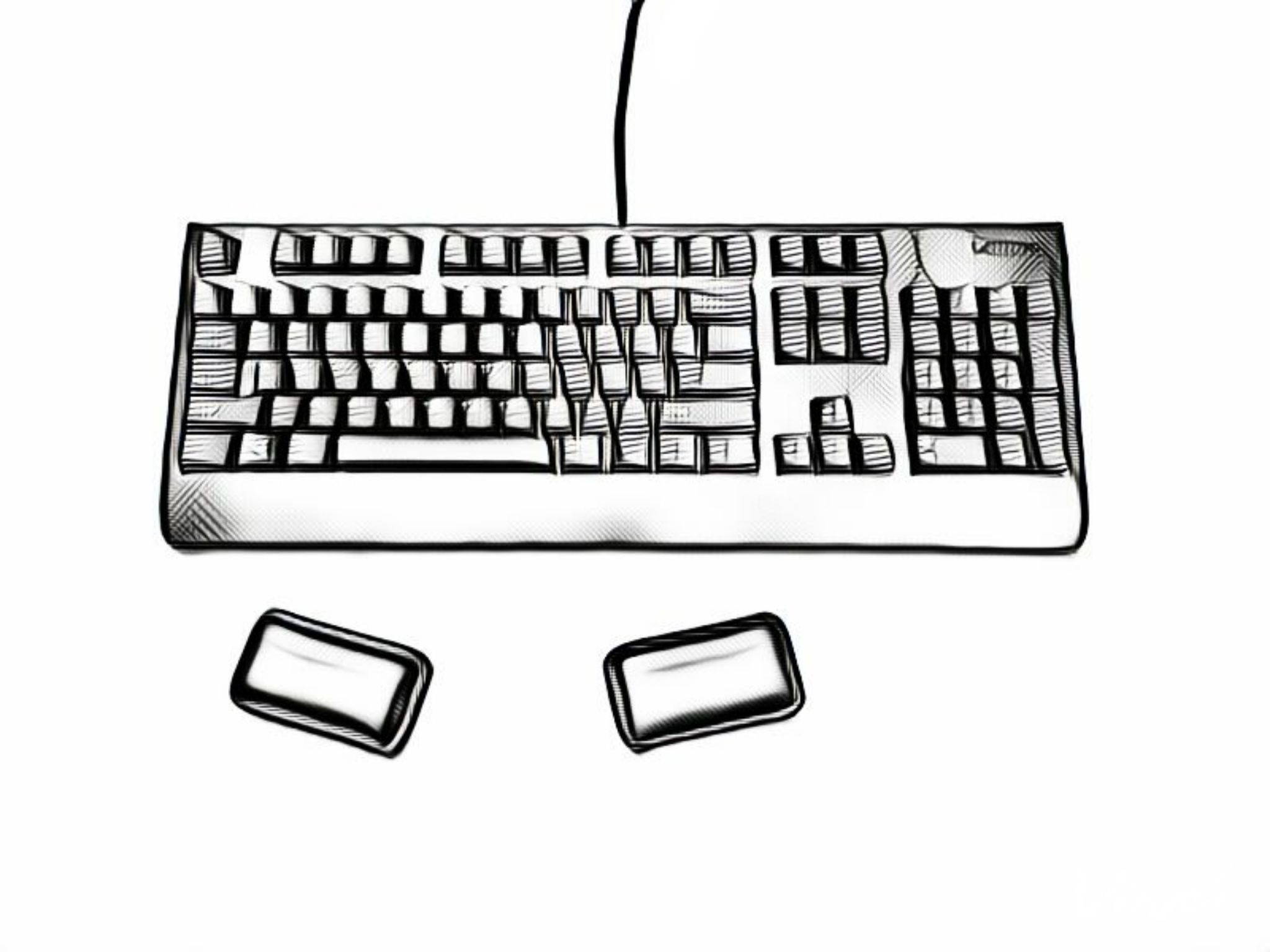 Sliding palm rests can also be used with standard keyboards. While delivering some relief to wrist pain, the purchase of the Freedom keyboard delivers the complete and ultimate solution. Individual sets can purchased separately.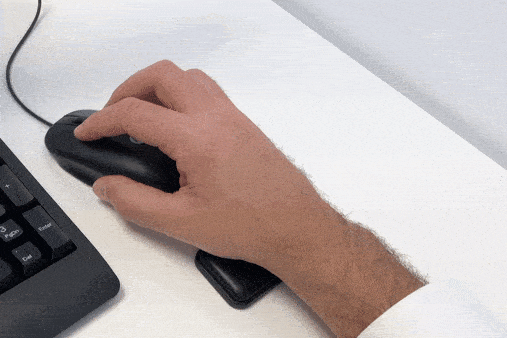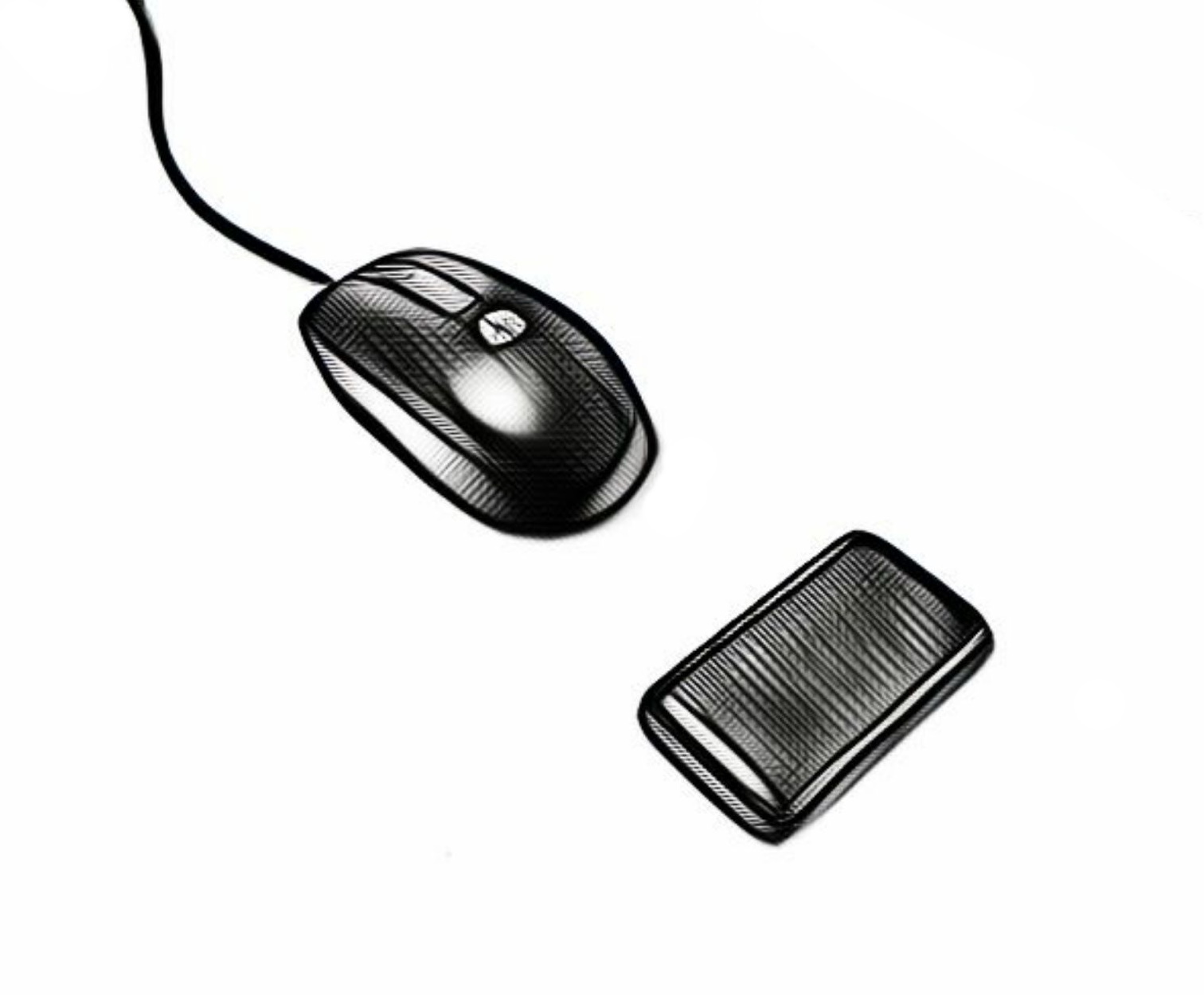 Sliding palm rests are also effective in reducing wrist pain associated with mice. Your hands remain aligned while eliminating painful horizontal deviations of the wrist

The Freedom may be used with an additional and optional set of Fixed Palm Rests for your preferred choice. The Fixed Palm Rests and Sliding Palm Rests are interchangeable with one another at any time without any tools or fixings required.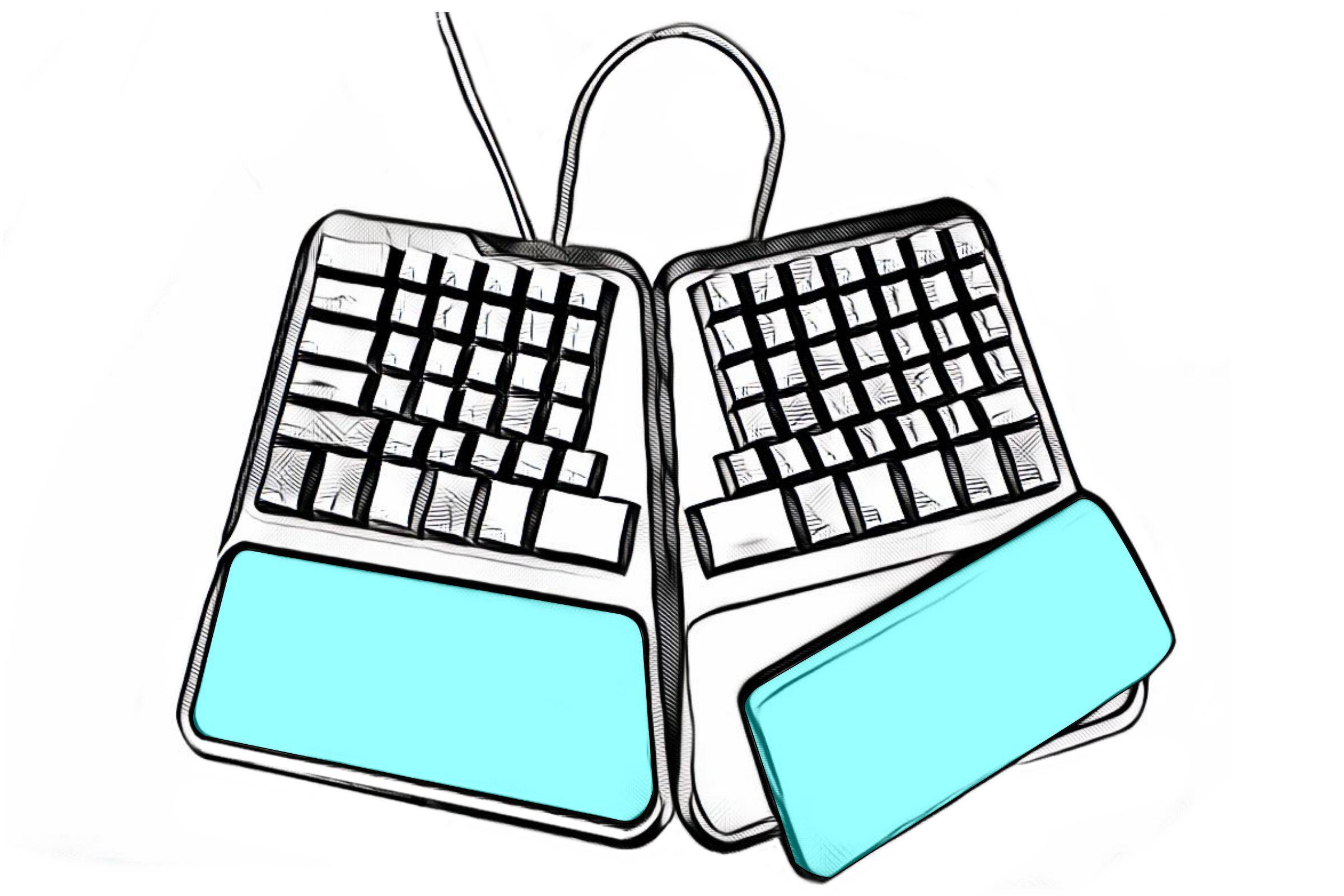 Fixed Palm Rests are provided as an alternative to the Sliding Palm Rests. They are designed to fit snuggly inside the slider bay, and are interchangeable with the Sliding Palm Rests at any time.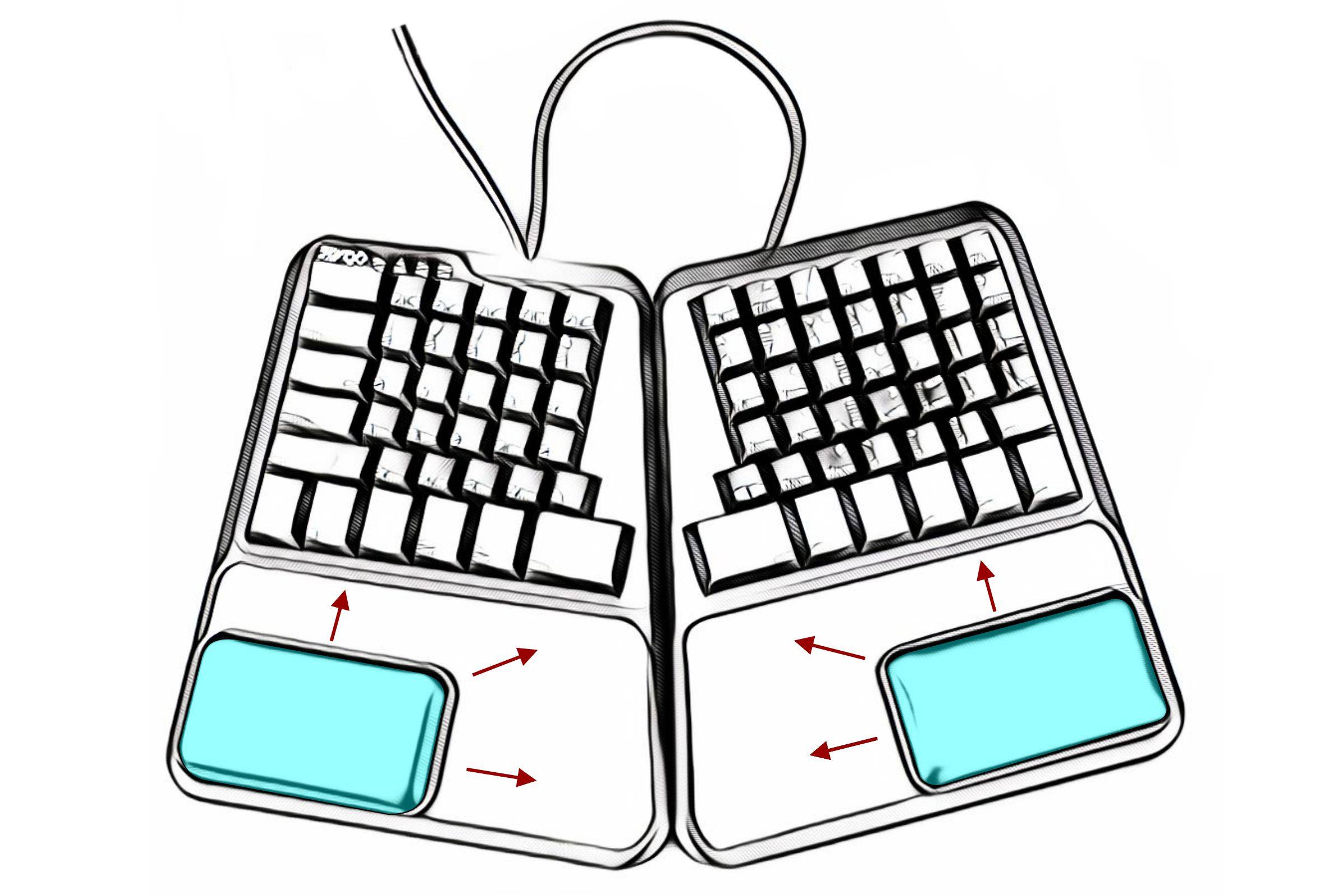 The Sliding Palm Rests are given plenty of room for movement in their slider bay. Swap these for the optional Fixed Palm Rests at any time.

Assessments of desktop seated positions combined with study of natural wrist and arm angles shows that there is no single position that would satisfy every user. We designed the Freedom to have an optimal set of angles in its default position, including tenting, rotation, and incline.With four extendable feet, the Freedom accommodates any desktop setup, while the split design allows for any angle and any distance for a complete solution for your ergonomic needs.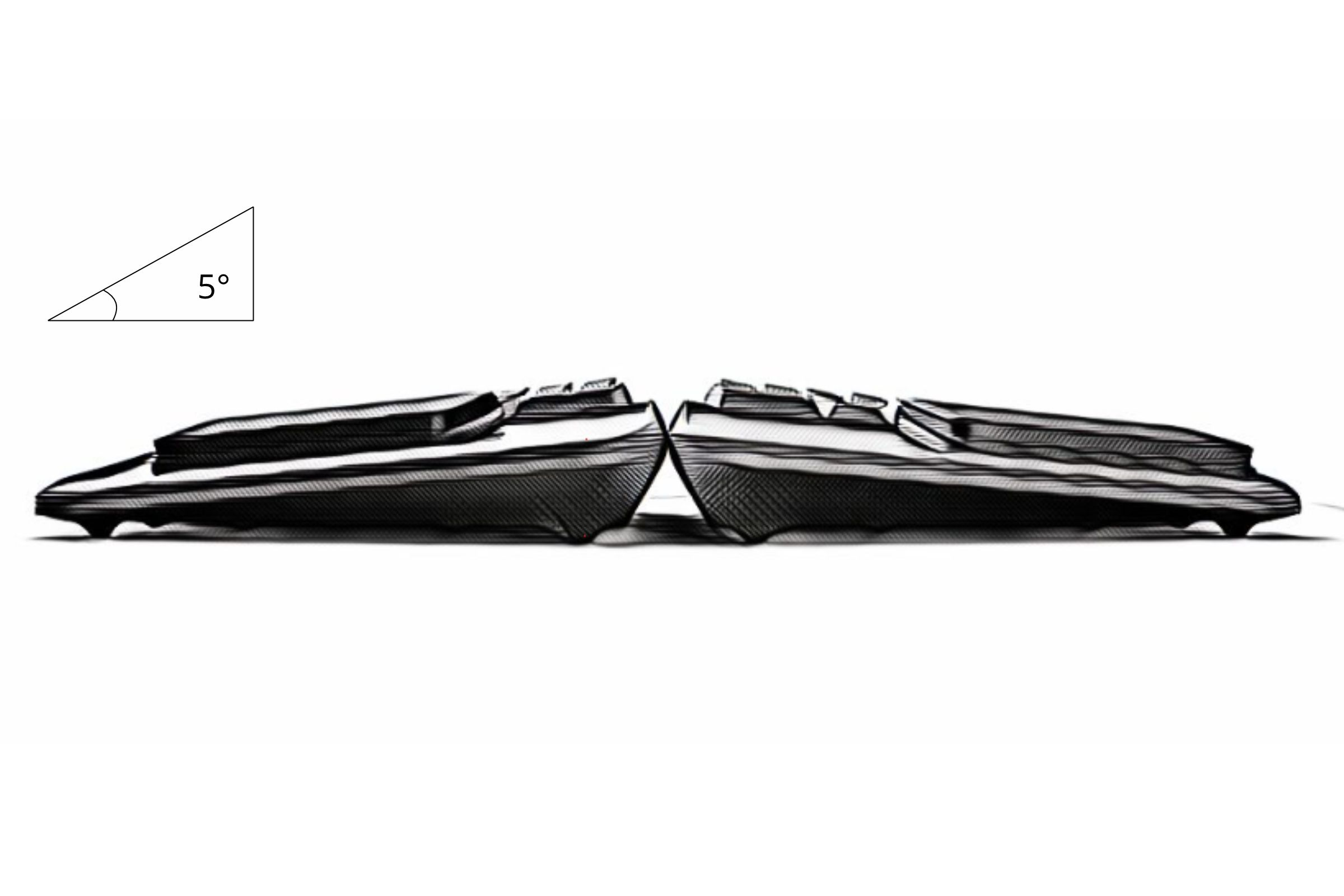 The default tenting angle is 5° away from centre. This ensures that at no time will your hands be completely pronated.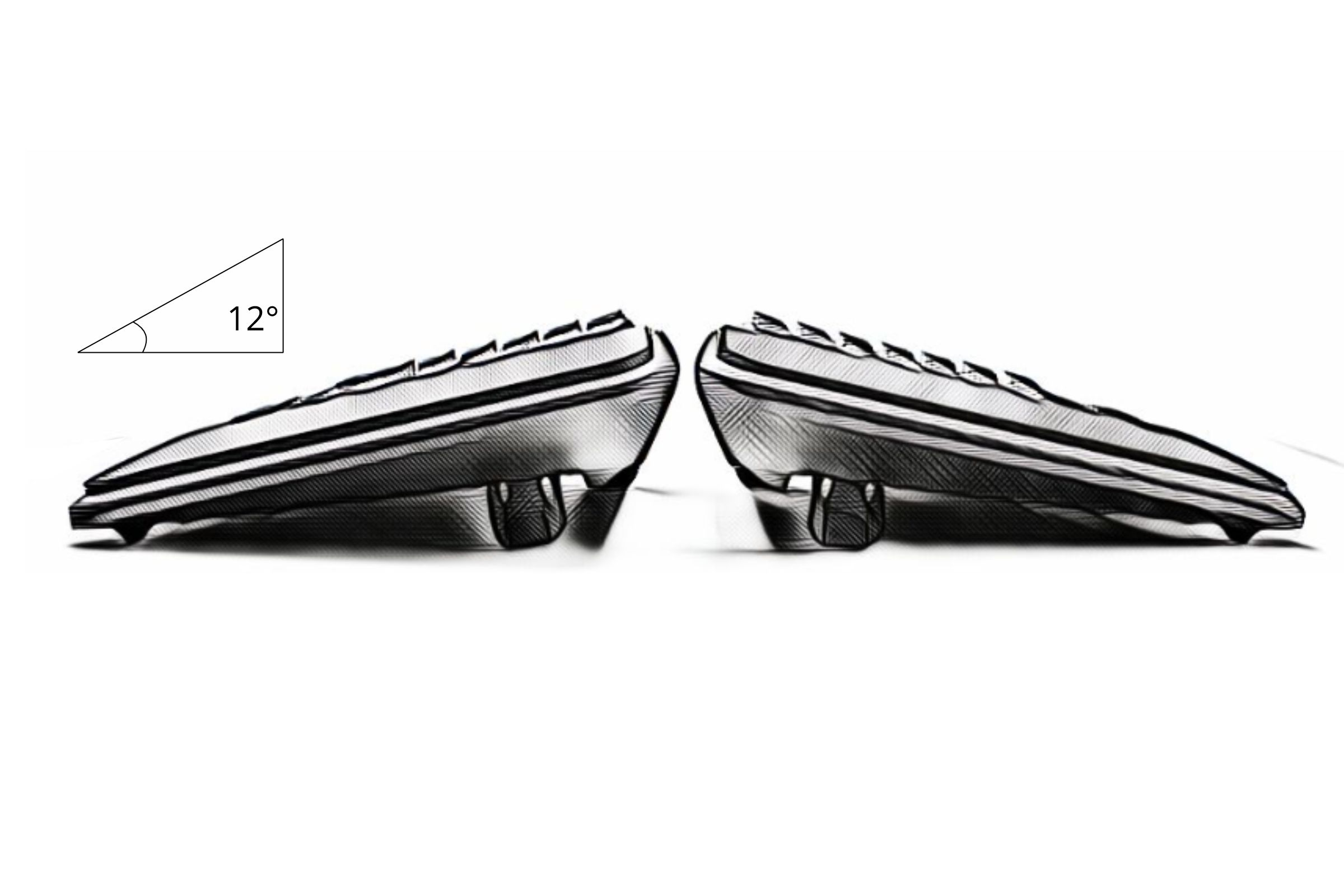 A more aggressive tented angle completely removes any pronation of your forearms and wrists. 

A declined angle is provided for users whose seating position is higher relative to the desk. This ensures your forearms approach the keyboard at an aligned angle.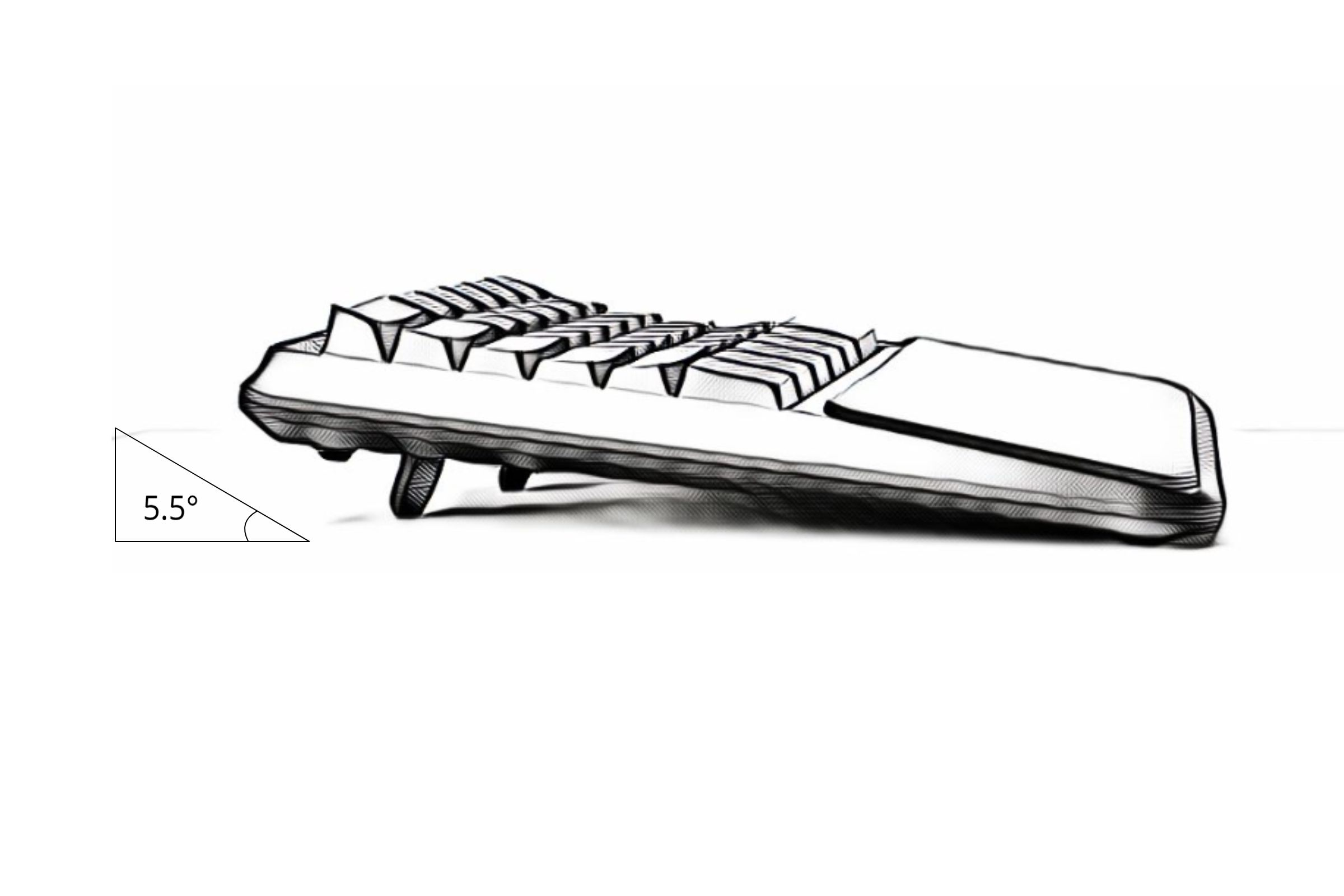 For users who sit lower relative to the desk, the Freedom provides an incline such that the keyboard meets your forearms at a naturally aligned angle.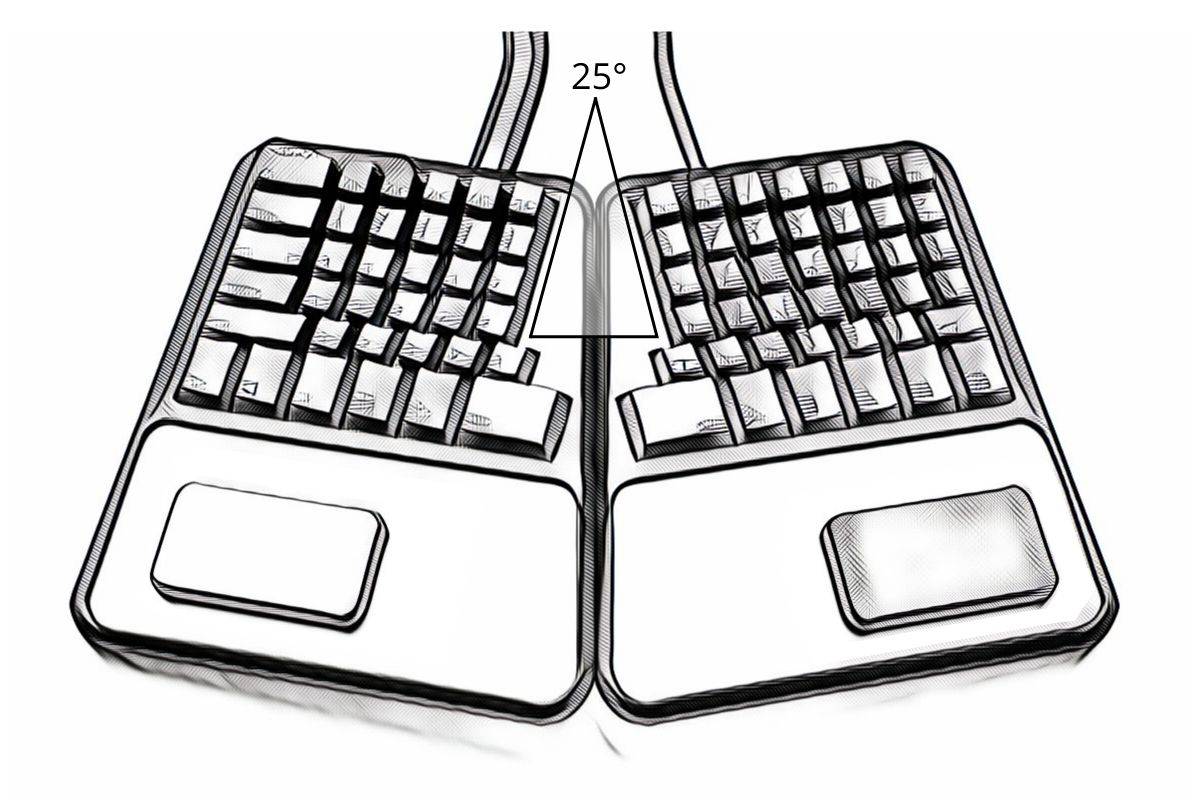 By default, the Freedom is configured at a 25° rotation ensuring your wrists are never in a stressed and deviated position. With your elbows by your side, the rotation of your wrists will be aligned naturally to the keyboard.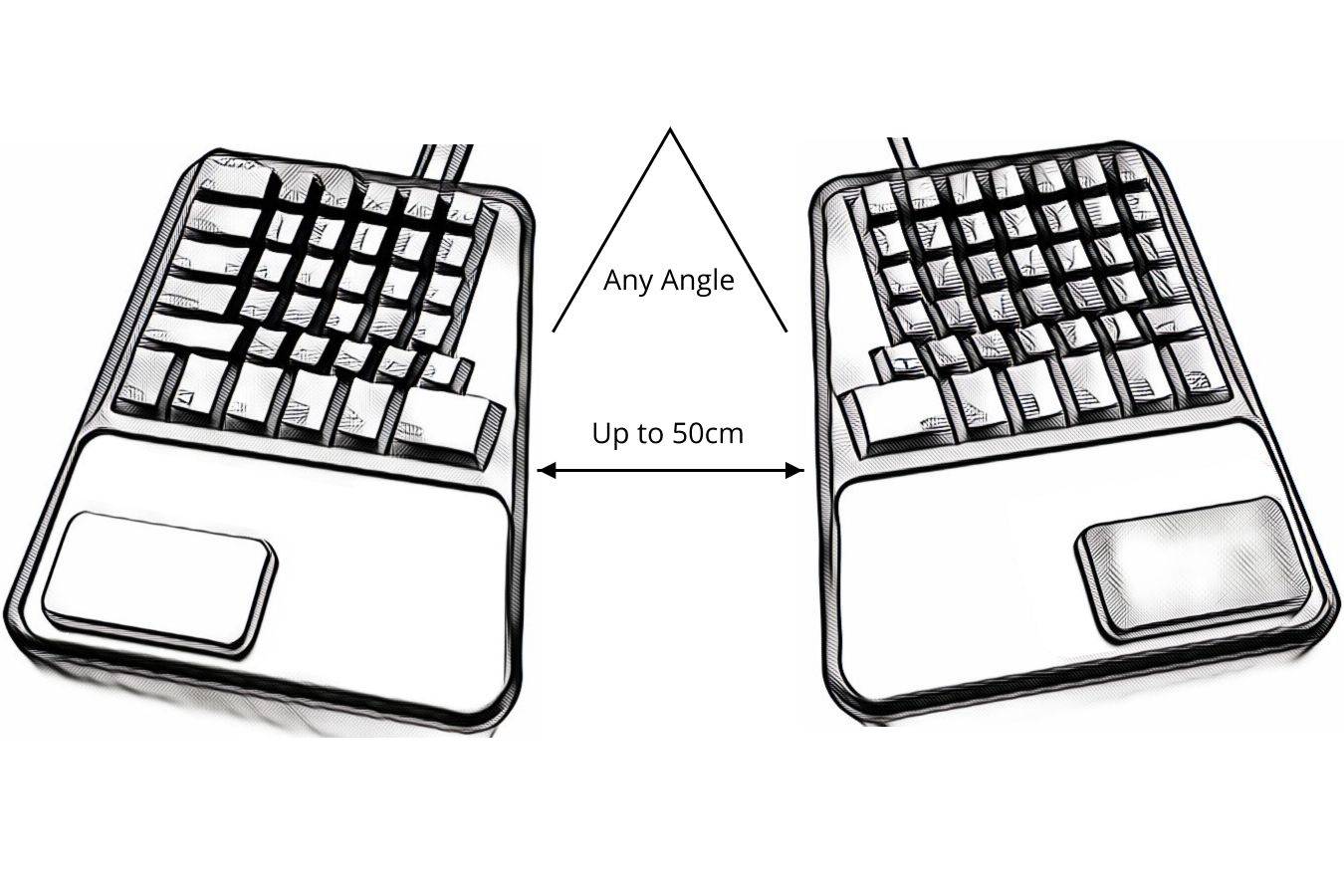 For users who seek the ultimate in ergonomics, a split keyboard at shoulder width is an optimal position. By widening the distance of the two boards, you can simultaneously open your chest, straighten your back, and align your forearms and wrists.

We promise a minimal learning curve with our design registered semi-orthogonal design. You will be surprised by such an easy and familiar typing experience.The semi-orthogonal layout was designed for optimal ergonomic benefits while providing the familiar typing layout you've come to learn with standard keyboards.  
Other ergonomic keyboards have a completely alien approach. The Freedom's semi-orthogonal design only aligns the rows that are asymmetrical, while keeping already symmetrical rows unchanged.  
Why an offset ZXCV row?  
Both the home ASDF and bottom ZXCV rows already have symmetrical finger reach to each of their keys. The ZXCV row is evenly offset to the home ASDF row. So we've kept their original positions allowing you to type like you are used to.  
As for the QWER and 1234 rows?  
On standard keyboards, the rows above the home row are not evenly offset to the keys below, which creates an asymmetry of reach for your fingers. You have under-reach for your left fingers, and over-reach for your right fingers. We've aligned these by pushing the rows to the right. It just feels right.
Standard Asymmetrical Layout

The standard keyboard has all rows asymmetrically offset to the left. This is in addition to a distant F row, and short bottom spacebar row. The short spacebar row requires the thumb to be unnecessarily brought closer to the palm for extra reach for striking the keys.


The Freedom keyboard makes only limited changes. The home ASDF row and bottom ZXCV row key positions remain unchanged. By using the home row as the reference, the bottom row is already symmetrically offset for finger reach. The top numerical row and QWER row have been vertically aligned for symmetry of reach, while the F row has been brought closer for ease of reach. The bottom spacebar has also been made taller for easy striking by the thumb. 
On-Board Programming
The KeyKortex  integrated on-board programming module gives you easy to use macros to allow you to change the key layouts to what suits you best.  For power users, KeyKortex gives you the flexibility to record and map key combinations and shortcuts on-the-go!  
NO SOFTWARE or additional bloatware - just an easy set of plug and play on-board programming routines. Improve your productivity and efficiency with your own personalized layouts.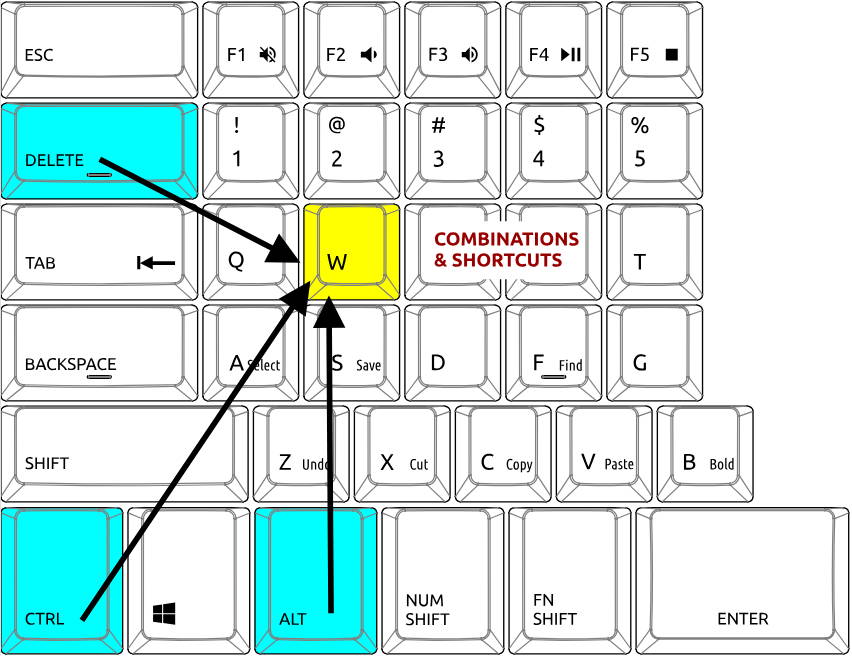 The ultimate macro for power users and those seeking efficiency. Map any key simultaneous key combinations, such as CTRL + ALT + Delete to any key to activate in one key stroke. Bring out the power of the Freedom with combinations that you use most.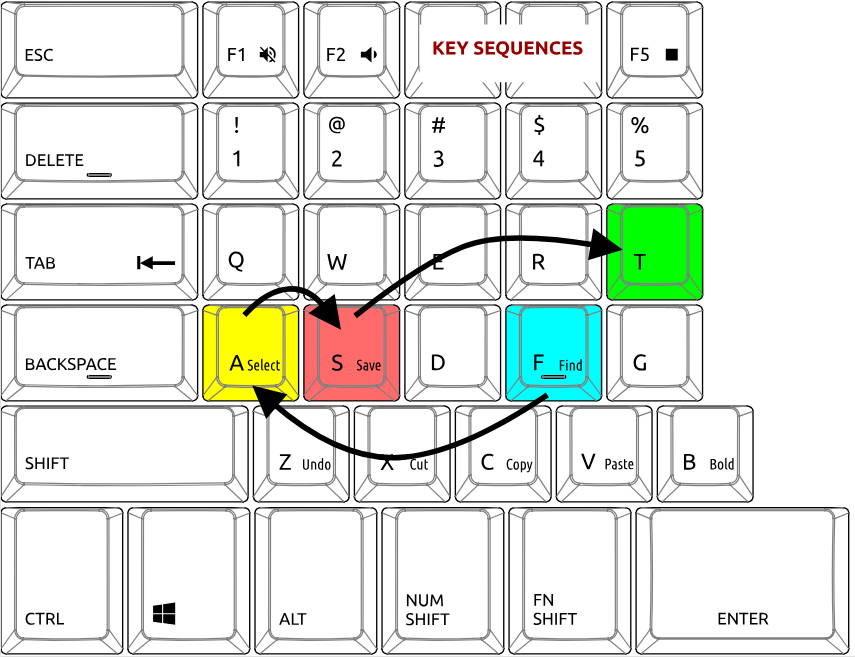 The Key Sequence macro allows you to record a sequence of individual key presses to save you from tediously retyping your most common key strokes. 

Instant Operating System Switch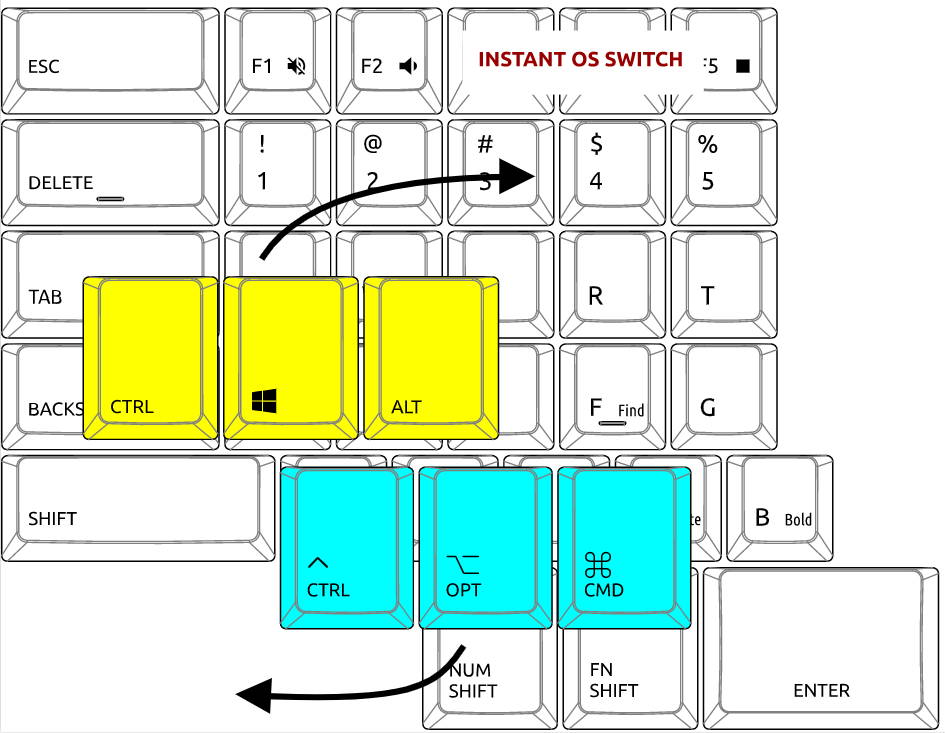 Change between Windows and Mac keyboard configurations on the fly!
(**this is  a new feature, so unfortunately we don't have extra Windows or Mac OS key caps at this time. Dual key prints will be produced in next batch**)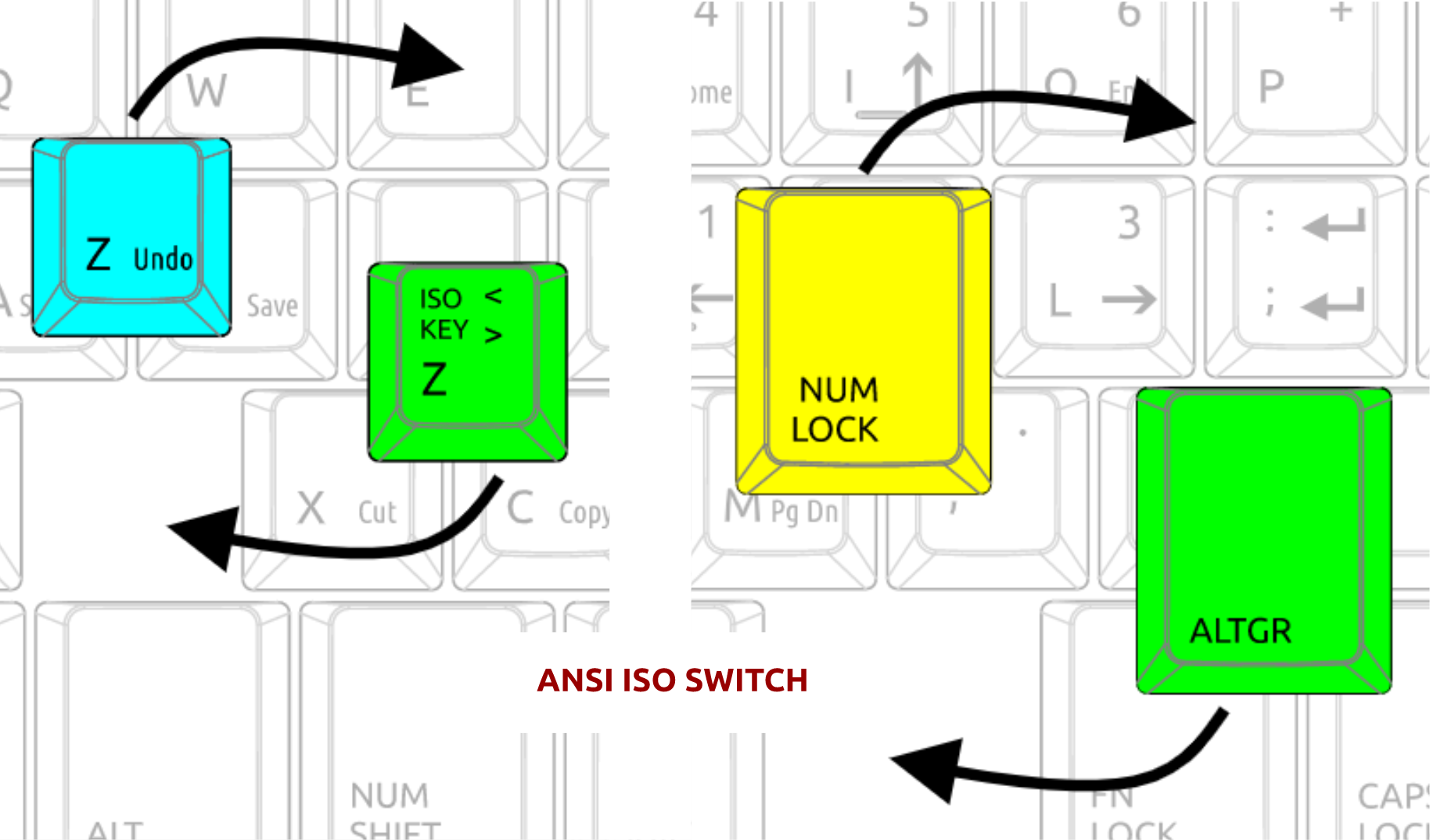 Switch between ANSI and ISO International layouts in an instant!
(**this is  a new feature, so unfortunately we don't have key prints for ISO keys. These will be produced in next batch**)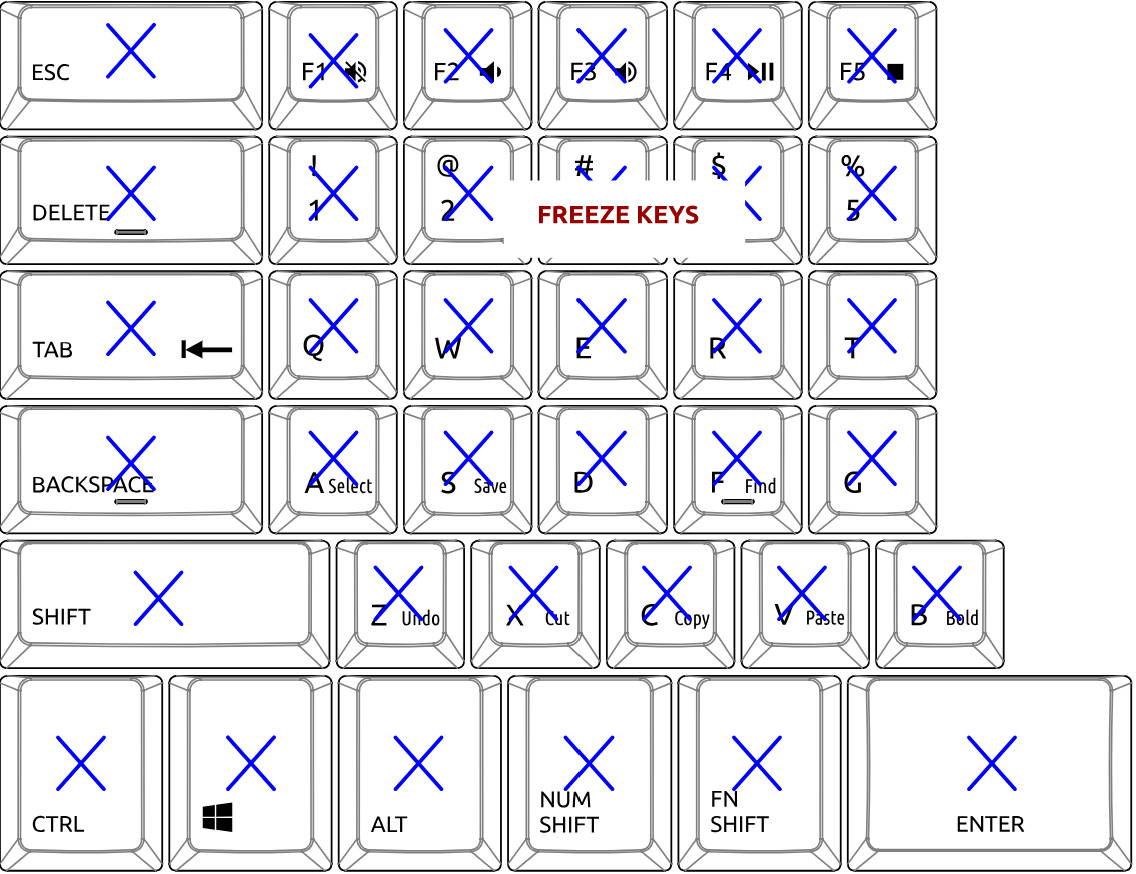 Freeze Keys allows you to deactivate all key presses on your keyboard. Handy macro to prevent unwanted key presses when the keyboard is not in use, for example when placing documents on your keyboard, or when removing or changing keycaps.

With the swap macro, you can swap any two keys. This comes in handy when assigning keys from one half to the other. For example, assessments of typing behaviours show that only a single dominant thumb is used for striking the spacebar at least 95% of the time. You choose which side you prefer.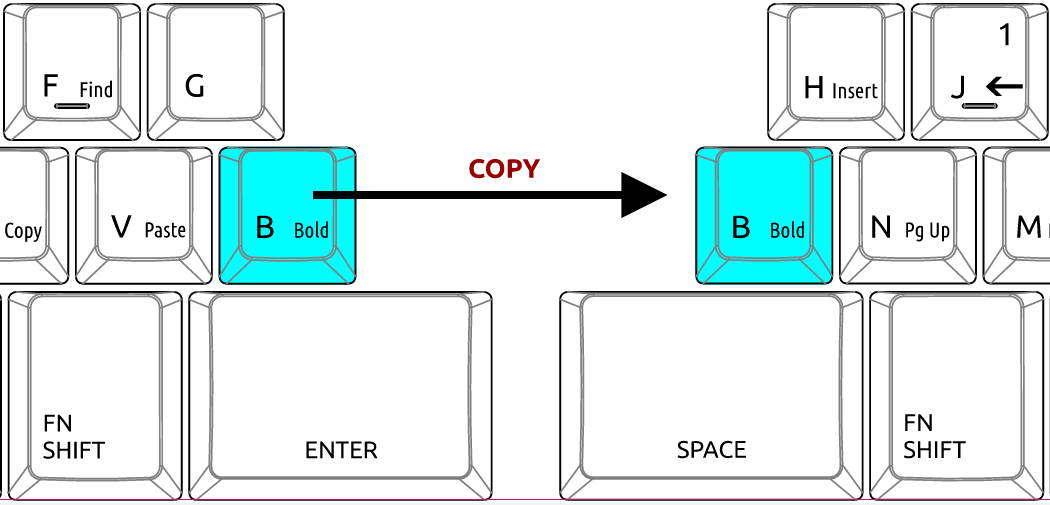 The copy macro allows you to duplicate a key from one position to another. Prefer two spacebar keys? Copy the B key to two positions? Create a copy and paste where it best suits you.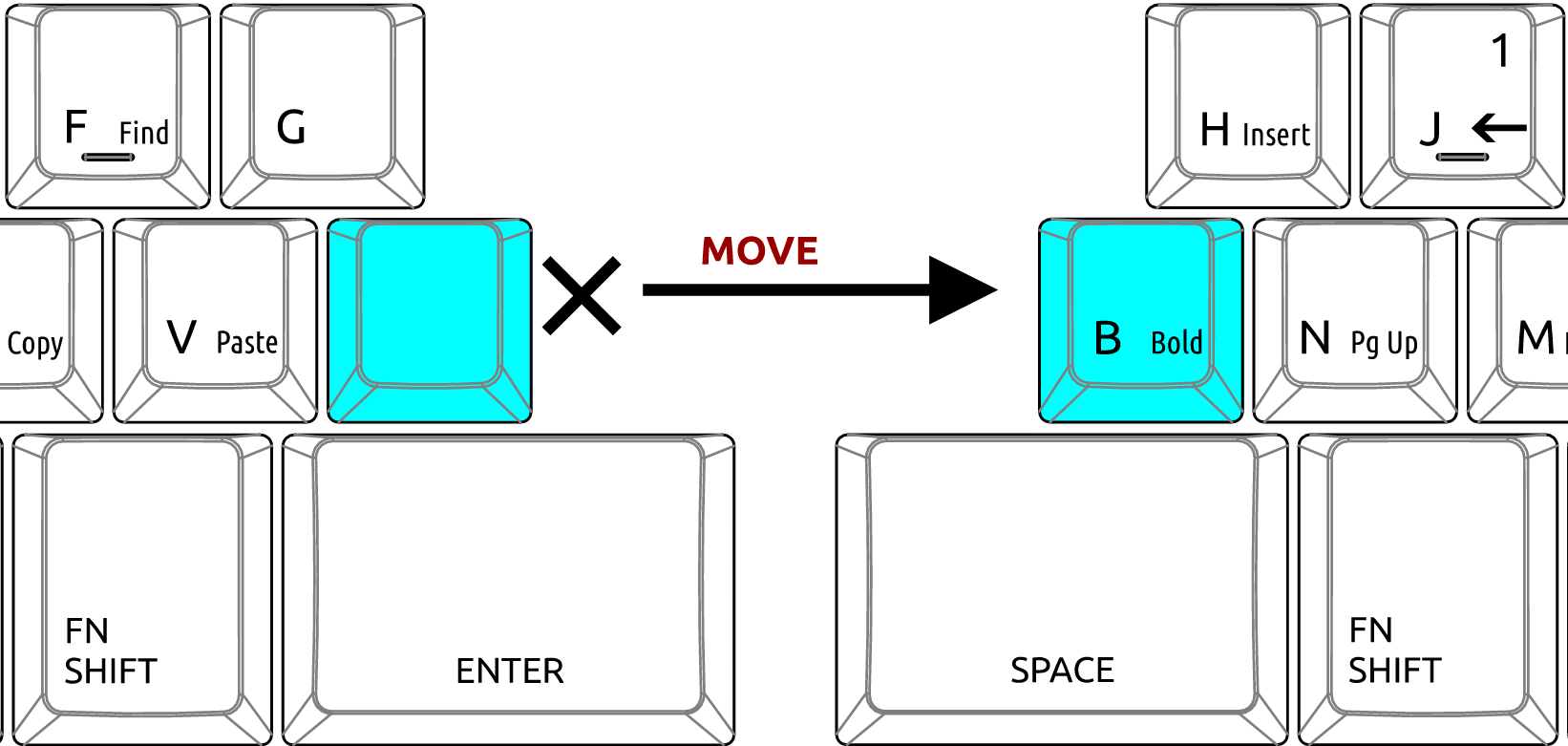 The move macro acts as 'Cut and Paste' feature, moving and over-writing one key to its destination position. The keys original location is erased giving no functionality.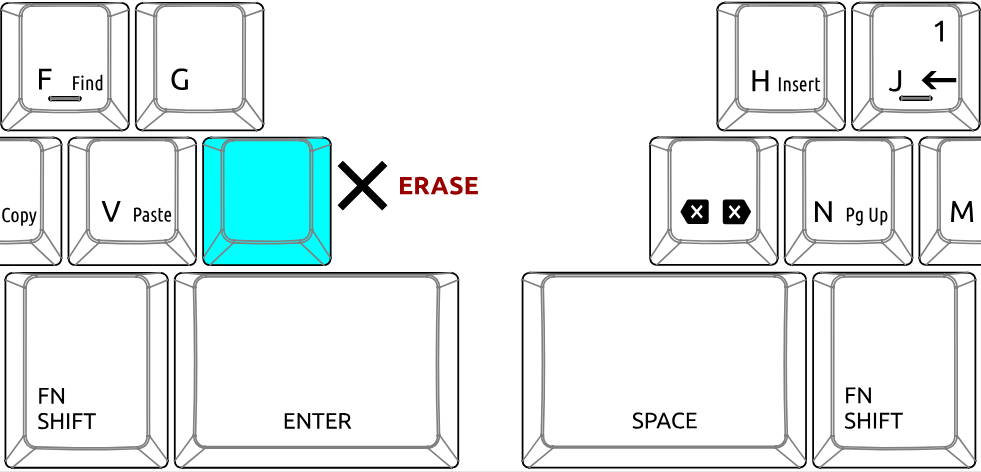 The erase macro allows you to remove the key mapping on any particular key.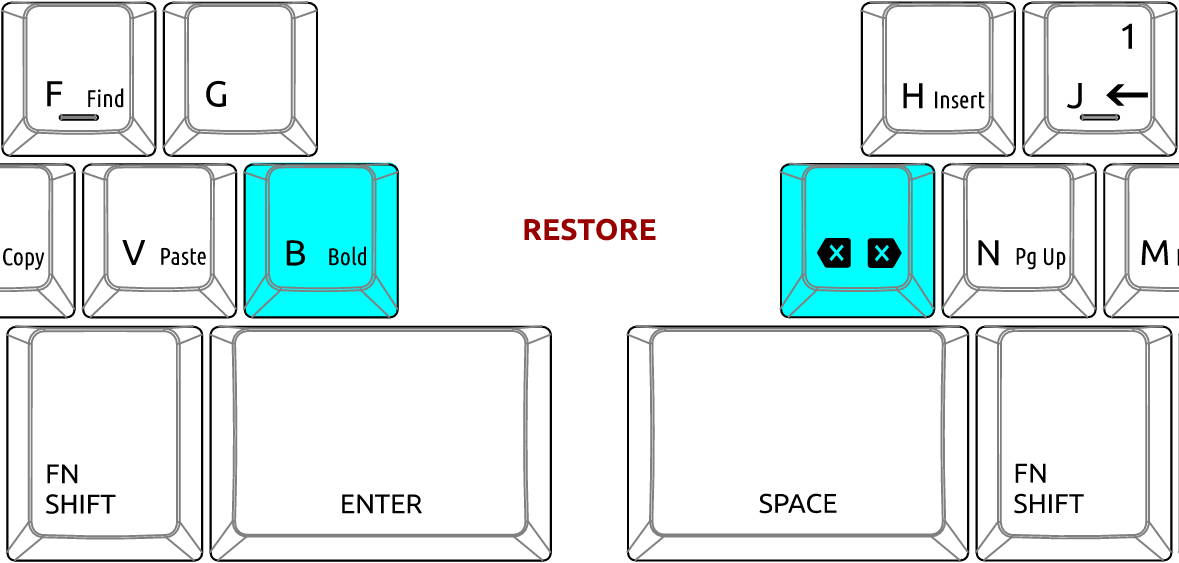 You can always revert the keys to their original default, either one by one or a factory master reset.              
Delivery
We use Fastway as our main couriers, therefore we are unable to deliver to PO Boxes (no deliveries on weekends). Our couriers cannot phone prior to delivery, and someone will need to be present to accept the delivery during business hours. If items are in stock (excluding chairs and desks), the delivery times are as follows: Major Metropolitan cities 1-3 business days Rural Areas 3-4 business days Australian chair companies ( Gregory's range): Quickship chairs are available for dispatch from the factory within 2 business days. Custom made chairs (modified seat, or fabric colours) take between 3-4 weeks for manufacture. Delivery can take up to 15 days (Darwin & Perth). Sydney & Melboure are usually between 2-4 days. Other areas are between these times, but please contact us if you would like a more definite timeframe. Imported chairs (Kinnarps, selected HAG, rh). Please allow up to 8-12 weeks for delivery. Desks: As desks have a wide range of custom options, please contact us for time frames. We require a contact phone number and email address for all deliveries. Once your order has been shipped, we send an e-mail with the tracking information for your order.
Returns
At Ergoport, we strive to provide the most up-to-date information on our products to allow you to make the most informed decision before you make your purchase. However, if you do make an incorrect choice or change your mind, return the product within 7 days of receipt (upon approval only). A 20% restocking fee will apply to approved returns. Unfortunately, we cannot accept products which are not in a resellable condition e.g. products removed from blister packaging or without packaging, products that have been installed (monitor arms, keyboard trays, anti-glare and privacy filters etc). If the product you receive is faulty/dead on arrival or damaged in transit, contact us within 7 days and you will receive either a full refund (including any freight costs) or product exchange (refunds and exchanges are upon approval and only after damaged goods have been inspected). Please note there is no refund or exchange for special order items (unless faulty or damaged on arrival). These include all chairs and complete height adjustable desks. For all enquiries related to returns or exchanges, please e-mail sales@ergoport.com.au. Please keep your invoice for proof of purchase. Please do not send any return/exchange products to Ergoport prior to contacting us for approval.
Shipping
Freight in Australia is based on the heavier weight, either physical weight or volume weight. To calculate freight, simply add the product to cart, and enter the delivery postcode into the relevant field. If no postcode is entered, a default freight charge will appear until entered.